Customer Or Client?
The most important thing you need to know when working with a real estate licensee is whether you are a client or customer. A licensee owes certain duties to a client that are different from the services in licensee performs for a customer.
Agent And Client
An agent is a person who acts for or represents you in negotiations with other parties. The client or principal is the person the agent represents. The licensee when acting as an agent must loyally represent the best interest of the client by placing the interest of the client ahead of the interest of any other party. In a real estate transaction, when a real estate salesperson is employed as an agent, the salesperson is obligated to negotiate the best price and terms for his or her client.
What Is A Customer?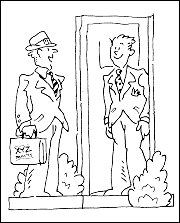 A customer is a person who is provided services by a real estate broker, but who is not a client of the broker. In this case, the real estate licensee is not acting as an agent. The actual services you receive from a real estate broker depend on the arrangement that is established between you and the licensee. The different types of real estate agreements are described below.
There are basically three types of real estate brokerage relationships that can be established between the consumer and a real estate licensee: Single agency, limited consensual dual agency, and a transaction brokerage arrangement.